RORGP News
Summer Reading Season!
'Tis the season for summer reading! The local libraries in Southeastern Pennsylvania offer wonderful, free summer reading programs. Below please find links to the 5 county libraries' summer reading. These programs offer a great way to expand your child's mind and keep the summer fresh and engaging!
Bucks: https://buckslib.org/summerquest/
Chester: https://chescolibraries.org/kids/discover-chester-county-library/summer-reading-club
Delaware: http://www.delcolibraries.org/summer-quest
Montgomery: http://mnl.mclinc.org/blog/2021/06/12/roy-summer-reading/
Philadelphia: https://libwww.freelibrary.org/programs/summerreading/

---
Diverse Book Recommendations
A key component of our Diversity, Equity, and Inclusion strategy focuses on promoting more culturally responsive children's books that serve as mirrors and windows. To do this work well, we are expanding our thinking and assumptions to ensure we are truly maximizing the opportunity we have as a national network.
Our Diverse and Inclusive Booklist demonstrates the richness of books available for children and families. In addition, it offers practical tips for choosing diverse and inclusive books, as well as elements to avoid. The list is available in a one-page condensed version and a multi-page version with book descriptions.
Diverse and Inclusive Book ListDiverse and Inclusive Book List with Descriptions
---
Philadelphia Pre-K and Kindergarten Registration
Get a Great Start! Click here to learn more and register online for Pre-K and/or Kindergarten.

---
The Power of Storytelling for Families Navigating a Pandemic
"In medicine, it's often called doorknob syndrome…as my hand reached toward the doorknob, I (Danielle) reminded mom of the book we used to start the visit, provided through our Reach Out and Read (ROR) program…" Read this entire blog by RORGP Associate Medical Director Danielle Erkoboni MD and Policy Manager Katie Land MPH:
"The Power of Storytelling for Families Navigating a Pandemic".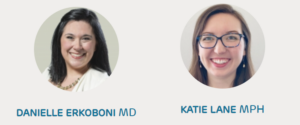 ---
Books Are Mirrors and Windows
Books help start ongoing conversations between parents and their young children about  difficult and  timely topics such as the  COVID-19 Pandemic  and Racial Equity. As parents and caregivers search for the words to deal with our own anxieties, books can give children great comfort along with a better understanding and explanation.  It is powerful to read or listen to a story about someone like you.  Books, too, allow us to view and understand lives that are different from our own, like a window into other experiences with a diversity of people, topics and worlds. At Reach Out and Read Greater Philadelphia, we're committed to increasing access to inclusive books for young people of all races and backgrounds.
---
COVID-19 Resources
Reach Out and Read Greater Philadelphia is committed to helping families. One of the best ways to support children of all ages during uncertain times is to read books together every day. In addition to reading aloud books with children, there are at-home virtual storytimes and activities being offered by authors and organizations during COVID-19. Click here and here for a variety of online resources.
---
Reach Out and Read is On The Air
Check out all of the different podcasts featuring Reach Out and Read!
Reach Out and Read National– A podcast centered on the belief that children's books build better brains, better family relationships, and happier, healthier children and societies. Host Dr. Dipesh Navsaria, a pediatrician with a children's librarianship degree dives into a wealth of varied early childhood health and literacy topics with expert guests examining the many facets of supporting the parent-child relationship as key to early success.
iHeartMedia Philadelphia Community Podcast  – Featuring Drs. Haecker and Erkoboni about their roles as pediatricians and talking with parents about the importance of reading aloud
Tell Me Podcast – Featuring Trude Haecker, MD and Danielle Erkoboni, MD about the "power of one" and Reach Out and Read
---
The Show Must Go On! Due to COVID-19, we were not able to host our Annual Regional Meeting in person, but on October 14, 2020, we were fortunate enough to host our annual Reach Out and Read Greater Philadelphia Regional Meeting virtually! We were joined by 131 virtual attendees, including donors, volunteers, policy advocates, clinical researchers, ROR National Center staff, RORNJ staff, CHOP Foundation, CHOP primary care directors, and staff from 60 RORGP Sites and some RORPA sites. Special thanks to all of our speakers including Wanjiku Njoroge, MD, who presented "Reach Out and Read: Using Books to Better Understand Differences" David Willis, MD who presented "Advancing Early Relational Health in the Context of Reach Out and Read". We're so grateful for everyone who participated, including our donors who continuously make Reach Out and Read possible!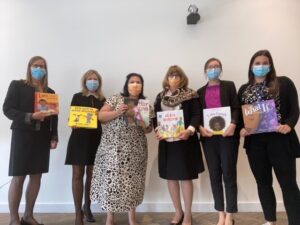 ---
"St. Chris Pride" in action! The COVID-19 Pandemic didn't stop the pediatric residency program's "AAP Advocacy Action Day"! Residents gave books to families, with notes of encouragement as families picked up meals. Thank you for helping families in need and for opening the world thru reading for so many families!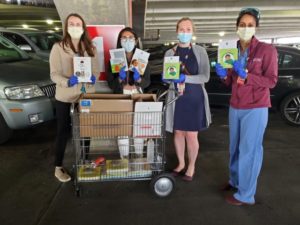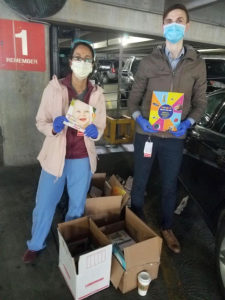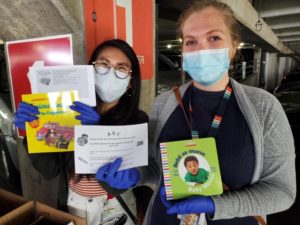 ---
Check out another amazing article by Reach Out and Read's National Medical Director, Dr. Perri Klass', M.D., in The New York Times! Read more into what is worrying pediatricians during the COVID-19 pandemic, here.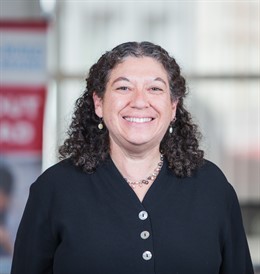 ---
We're now on YouTube! Check out our new YouTube channel where we are participating in the #ReadTogether challenge!
---
Keep up with Reach Out and Read Greater Philadelphia by subscribing to our newsletter and more! For those that missed the most recent newsletter, take a look at what has been going on within Reach Out and Read Greater Philadelphia!
RORGP APRIL 2021 NEWSLETTER RORGP MARCH 2021 NEWSLETTERRORGP FEBRUARY 2021 NEWSLETTERRORGP JANUARY 2021 NEWSLETTER RORGP DECEMBER 2020 NEWSLETTERRORGP November 2020 NewsletterRORGP OCTOBER 2020 NEWSLETTERRORGP September 2020 NewsletterRORGP JULY 2020 NEWSLETTERRORGP July 2019 NewsletterRORGP December 2019 Newsletter
---
The 6th Annual Reach Out and Read Basketball Tournament at Germantown Friends School in October 2019 raised over $70,000 for the Reach Out and Read program at St. Christopher's Hospital for Children!
This tournament keeps getting bigger with over 140 participants and spectators and over 20 sponsors supporting this year's exciting event which combines passions for basketball and promoting literacy. With the funds raised almost 25,000 books can be purchased for the Reach Out and Read program.
Thank you, Dr. Hans Kersten, Dr. Dan Taylor and all for being amazing champions!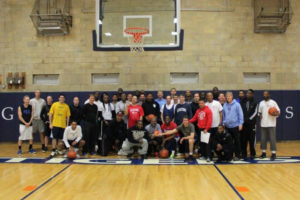 ---
Reach Out and Read National's Medical Director, Perri Klass, contributes another amazing article to The New York Times! Dr. Klass touches on the importance of reading paper books, and the benefits they have compared to e-books. Read more here!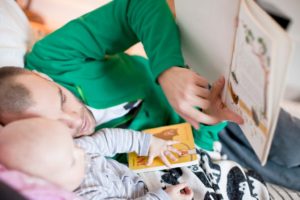 ---
What an amazing day! On October 22, 2019, we were fortunate to hold our annual Reach Out and Read Greater Philadelphia Regional Meeting with more than 130 attendees! Special thanks to all of our speakers including Roberta Michnick Golinkoff, PhD, who presented "What's New in Language Development and Why Should We Care?". We're so grateful for everyone who participated, including our donors who continuously make Reach Out and Read possible!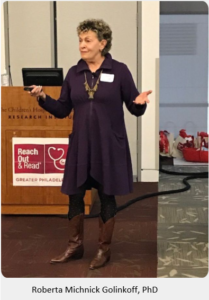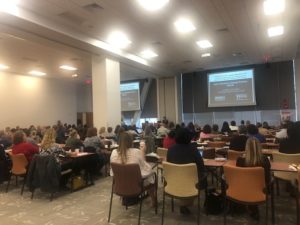 ---
In November, 2019 Reach Out and Read turned 30 years old! The RORGP Affiliate Leadership joined the ROR National staff and other ROR Affiliate Leaders from across the country in Boston to celebrate. We were lucky to have amazing speakers, including Coy Bowels of Zach Brown Band and author of children's book, Behind The Little Red Door. Coy shared his musical talents and stories during our evening at Boston's historic Fenway Park.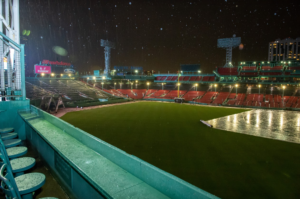 ---
OpenIDEO and the William Penn Foundation announced their Early Childhood Book Challenge in summer of 2019. Authors from around the world were invited to submit a manuscript that would educate caregivers about the importance of reading and engage young children in their earliest years while reflecting family life in communities like Philadelphia. Congratulations to Jean Ciborowski Fahey, author of the Top Manuscript, I'll Build You a Bookcase.  Ms. Fahey was awarded $20,000 and will have her book illustrated, by award winning author, Simone Shin, published and distributed to families in the Philadelphia region!
In addition,a study associated with the book will address early literacy challenges in young children by identifying caregiver and child perceptions to better understand the impact of the book on the home literacy environment.
Publisher Lee & Low Books has partnered with the William Penn Foundation and OpenIDEO on the Early Childhood Book Challenge.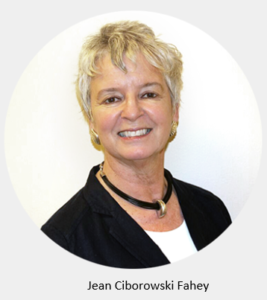 ---
On October 24, 2018 the Parent-Child Home Program and Read by 4th held the first Philadelphia School Readiness Forum. Keynote speaker, Karen Myers of the Fred Rogers Center, along with a wonderful panel of speakers, including Danielle Erkoboni, MD of CHOP, focused on the impacts of technology on early childhood development and school readiness.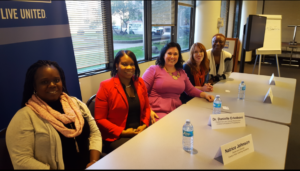 ---
Check out Reach Out and Read National Medical Director Dr. Perri Klass', M.D. article in The New York Times! Read more into how essential literacy and language development is all of our lives. Click Here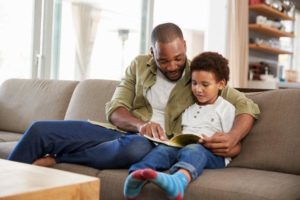 ---